Helping you keep your home, offices and commercial spaces clean is what we do best at A+ Cleaning Services. We are a locally owned and operated cleaning business located at Cape Cod. We specialize in residential, commercial and industrial cleaning services. We provide you with professionals to take care of all your cleaning needs and requirements.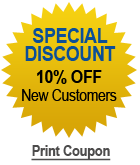 Does your home need a quick cleaning fix for an upcoming party? Has fire damage left your building looking like a haunted house? Has your precious oriental carpet started to reek of pet odor? Is the beauty of your magnificent upholstery hidden beneath thick dust? Have your store sales decreased because of a messy environment? Has the functionality of your industry decreased because of ill maintained hygiene?
It's time to call in the cleaning professionals from Cape Cod. Give us a call and let us know your requirements and A+ Cleaning Services will get on the job within no time. If your hygiene issues need urgent attention, don't forget to let us know and we will provide you with our emergency services and same day cleaning services.
About Our Services
A+ Cleaning Services from Cape Cod offers you a variety of cleaning services for your homes, industries, commercial spaces, boats, RVs, automobiles and factories. Our household cleaning services include carpet, upholstery and floor cleaning. We also offer you complete household cleaning services and janitorial services for your home. If you have faced damage due to fire and water, we fix those for you as well. We understand the mess left behind at construction sites. Show off your latest construction with pride as we undertake a thorough cleaning job post construction.  
No matter what kind of cleaning the situation demands, you can rely on our services for a spic and span job.
About Our Employees
Our employees here at A+ Cleaning Services are committed to give you 100% customer satisfaction. Their devotion to their job and every client is not only remarkable, but also ensures that only the topmost professional methods are followed in our dealings with you.
The technicians and cleaning professionals who work with A+ Cleaning Services are our employees. They are not subcontractors to whom we outsource your cleaning job. Therefore, we can vouch for the security of our services.
Each technician at A+ Cleaning Services is uniformed and certified. Also, they have been thoroughly screened with background profile checks and the verification of their cleaning certifications. Our hiring practices are transparent and we take pride in our stringent hiring process so that you can take pride in the cleaning job performed by our employees in your space. You can be rest assured with the safety of our services. Remember that if we wouldn't send our technicians into our own homes, we will certainly not send them into your home.
Additionally, our service executives are always there for you when you need us. When you give us a call to hire our services, we take into consideration all your cleaning needs. We also make it a point to return all calls so that when you need a cleaning service, there is someone who is ready to serve you. Therefore, you can count on us in the face of emergencies.
A+ Cleaning Services follows professional practices to give you a thorough cleaning job. When the cleanliness of your space is in our hands, there are no compromises.