Take your mind off the profit and loss once to look around the working environment in your office. No matter how big or small your business is, a clean and hygienic workplace is important for a healthier environment. A neat and clean working atmosphere is also important to maintain the professional image of your company or commercial space in front of your clients, employees as well as special visitors.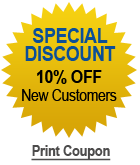 The upholsteries in your offices are open surfaces for dirt settlement. Your employees and guests are bound to come in contact with these dirty surfaces several times. Office furniture such as chairs, tables, doors, windows and partitions can spread allergies and infections if they are left unclean. In fact, nearly all furnishing manufacturers also recommend professional upholstery cleaning for commercial spaces once a year depending on the daily use.
Fortunately, commercial spaces in Cape Cod need not worry about their furnishings. A+ Cleaning Services has taken care of several businesses on Cape Cod by providing professional upholstery cleaning services. Be it a stadium, hospital or an office, we guarantee to leave you with sparkling surfaces.
Daily activities at workplaces and commercial spaces can fill every corner and unreachable crevices of couches and chairs with food particles and dust. Sometimes, ink, oil, grease and other adhesives can leave dark and undesirable stains on the delicate fabrics. But, our cleaning experts are well aware of all cleaning techniques to fight the adamant stains, germs, dirt and pollutants; thus, leaving your space healthy, neat and clean.
We employ powerful cleaning processes to ensure complete elimination of dirt. Our experts can also deodorize your furnishings and space after cleaning. Our final touch of protector sprays will create an invisible and resistant barrier around the open surfaces to oppose dust and stain for a very long time.
Commercial Upholstery Cleaning Services
With years of experience serving Cape Cod, we have developed a strong formula to deliver high quality upholstery cleaning services. We perform an on-site analysis to understand the type of upholstery fabric at your workplace. Every fabric is different and so our treatment procedures differ with every fabric. Fabrics can either be color fast fabric or can have stable dyes. Depending on the nature of the fabric, we determine the safest and most efficient cleaning procedure for your fabric condition.
The end result of our in depth upholstery cleaning services is off course an improved appearance for your commercial space.
Your furnishings are an important investment for your company. Spoiling it due to carelessness and ignorance will leave you with the only option of upholstery replacement. The appearance and environment of your commercial spaces provides a reflection of you and your work culture.
So, if you want to welcome your guests and visitors with pride, if you want to give your staff a healthy and comfortable working environment, if you want to save unnecessary costs of replacements and if you want to extend the life of your commercial upholstery, choose none other than
A+ Cleaning Services.