Carpets add to the brand and prestige of a company; however, they can pose a maintenance challenge if not handled with care and not cleaned regularly. A+ Cleaning Services has a solution for you. Our services not only include cleaning and repairing of carpets but also enable them to repel dust, water and grime.
Carpets spread over large and wide floors with furniture, equipment and construction can be quite a challenging job for any carpet cleaning and repair service provider. But not for us! We have trained and skilled professionals who are adept at handling such jobs on large scales.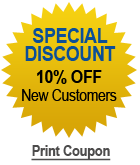 Commercial Cleaning Services
A+ Cleaning Services is Cape Cod's finest firm for all types of cleaning solutions. You will never be disappointed with our flagship carpet cleaning services. The procedures we employ when you hire us to clean the carpets of your commercial spaces are listed below.
Hot water extraction
This method is usually known as steam cleaning. The hot water dissolves all the dust and grime and a very powerful vacuum cleaner is used to pull the sludge out of carpets. We provide Cape Cod's best personnel and equipment to get this job done.
Scotchguard protection
Most of the commercial spaces we clean have a high footfall of customers, clients and employees. The carpets hence tend to get dirty, dowse and stain sooner. Our unique modus operandi of providing long lasting protection to carpets makes the carpets stain, water and dust proof. Scotchguard protection is a formula used over and above regular carpet cleaning to reduce the absorbent and water retaining capacity of carpets. Hence, when the treated carpet is vacuumed, more dirt than usual is pulled out of it.
What's more! The carpet even looks newer than usual and the risks of stains developing are much lower.
Deodorization
Old carpets can have a moldy smell due to spilled food and substances as well as settling of stubborn dust and grime. Our process not only masks the smell, but also acts as a disinfectant.
Types of Cleaning Services
We offer two types of carpet cleaning services on Cape Cod. One is traditional, where chemical solvents and detergents are used and one where organic solvents and detergents are used. Both our services are top-notch in their capacity.
The latter service is called Green Carpet Cleaning, which is a safer and environment friendly method. It uses toxin-free cleaning agents and also makes the carpets softer and richer in color.
Our Satisfied Commercial Clients
We have served many clients differing in industry and scale, all based in Cape Cod. Our carpet cleaning services have sanitized, cleaned and unstained carpets of supermarkets, shopping centers, official spaces, nursing homes and medical centers, gyms, banks and car dealerships.
Call us any time during the day and throughout the year and ask for a free estimate to clean the carpets of your commercial spaces. Your carpets will be as clean as new and stain free after we are done cleaning them thoroughly.