A restaurant's reputation lies on its cleanliness, both in the kitchen and in the dining area. Maintaining a restaurant's cleanliness is important to keep the food hygienic and control pests and mold growth. Become the best restaurant in Cape Cod by accompanying your delicious food with the easy cleaning solutions offered by A+ Cleaning Services.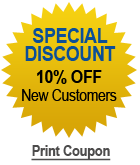 Word of mouth is an essential part of any restaurant's business. If people like the food and the hygiene maintained in your restaurant, they will frequent it more and recommend it to friends, colleagues and relatives. A+ Cleaning Services ensure that your food comes from a clean kitchen and that your tables and chairs are as clean as they can be.
Our Restaurant Cleaning Services that Suit your Restaurant
A+ Cleaning Services have an array of products that will suit your restaurant's cleanliness requirements. These include:
Janitorial services: We can provide janitorial services round the clock to clean your floors, kitchen wares, platforms, gas burners, bathrooms as well as storage rooms.
Floor cleaning: Regardless of whether you have carpets or tiled floors, we can keep them clean. In case they have lost their appeal due to frequent use, we can repair, restore and un-stain carpets and strip and wax tiles.
Mildew and Mold Removal: A restaurant is full of food and hence, rich in nutrients. Mildew and mold can easily grow on walls, floors, bathrooms, wallpapers and upholstery. We can easily and effectively remove these for you.
Disinfestation: We can help you kill and avoid all vermin and pests by our unique methods of disinfesting restaurants and deodorizing them
Contingency Control
A+ Cleaning Services is one among those few cleaning service providers who can help you restore your restaurant in case of a calamity. We provide for water and fire damage restoration, and easily rank higher than others because of our extensive experience. We also clean areas and remove wastes if any, as quickly as possible, such that no further damage is caused to you or your restaurant.
Our Reputation is Enough!
 
A+ Cleaning Services' reputation is so strong in Cape Cod that once your customers know we clean your restaurants they will be completely assured about their food's hygiene and cleanliness. We have taken care of the cleaning aspect for many businesses, factories, offices and homes. All these vary in sizes and scales and our expertise has always left them satisfied.
With your delectable food, awesome ambience, and our cleaning services, nobody can stop you from earning those Michelin stars. The cleanliness of a restaurant is no small deal and once a reputation is tarnished even by a little rumor, it is extremely difficult to restore it back. Our services as well as our prestigious name in Cape Cod will help you avoid any such blemish on you and your restaurant.
We provide services all the days and at any time. You can get in touch with us at any time and make an appointment to get your restaurant cleaned and transform its appeal.