Every home on Cape Cod has enhanced its look with eye-catching rugs covering the floors. The versatile collection of rugs available in the market can bring a pleasing atmosphere to any barren area. Careful selection of rugs to compliment the furniture and walls further give a glamorizing look to the rooms.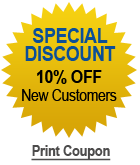 Whether you choose contemporary style, geometric patterns or floral prints, rugs remain an integral part of home décor. But, more than that, area rugs provide a warm touch and a feeling of coziness to the room by covering those hardwood or cracked areas and cold tile floorings.
Rugs will continue to give you a pleasant feeling when you walk on it until you start ignoring the cleanliness aspect. Daily vacuuming may help you to keep your rugs clean, superficially. But, have you noticed the damage you incur by harsh vacuuming of rugs? Your expensive rugs need special care and attention. 
A+ Cleaning Services specialize in residential, commercial and industrial Oriental and area rug cleaning on Cape Cod. We employ delicate cleaning processes to prevent any damage to the rugs. Our professional cleaning services will help you maintain the original beauty and magnificent look of your rugs for years to come.
But how is professional rug cleaning better than self maintenance?
Regular rug vacuuming helps you in removing loose soil and dust, but it cannot remove deep rooted dirt, spills, stains, germs and allergens. If these elements are not removed, they will eventually spread different types of irritations and allergies, thus, risking the health of your family. Our professional rug cleaning services can eliminate this risk.
Harsh and careless vacuuming can cause shredding and breaking of rug fibers. Further, if the rug gets caught while vacuuming, it will be permanently damaged.  We especially take care of the delicate fibers while cleaning to restore the original look of the rugs. We implement special and unique cleaning methods to suit the particular dyes and weaves of your rug to assure its longevity.
Rug Restoration Process
Once you call our A+ Cleaning Services, you have guaranteed a stepwise treatment to restore your area rugs.
Our certified cleaning specialists will firstly inspect you rugs for any permanent stains or defects.
A simple and gentle dusting will be performed to remove loose dust.
Further, vacuuming will ensure complete elimination of loose dirt and foreign particles and fibers.
Then, steam cleaning or submersion bathing process will be carried out to remove dirt adhered to the rug fibers. Rinsing them with mild chemicals fastens the cleaning process. The rugs will be sanitized properly and treated for odor.
We use specialized humidity and temperature controlled drying rooms to prevent any damage while drying the rugs.
Another round of inspection will be carried out to check the requirement for vacuuming.
The rugs will be finally detailed with fringe combing if required.
A+ Cleaning Services is the best choice of professional rug treatment on Cape Cod. We guarantee that our services will satisfy you completely when you take back a brand new looking rug to beautifully cover your floor.