Getting carpets cleaned is very essential as they tend to retain more dust, gravel and bacteria. However, carpets are harder to clean than uncarpeted floors. Many chemical solvents are used by Cape Cod's carpet cleaners to get rid of stains, which can be toxic on contact, inhalation and intake. It is for this reason that many are opting for green carpet cleaning.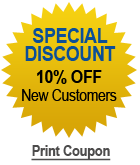 A+ Cleaning Services provides carpet cleaning solutions using organic materials to clean your residential and commercial carpets. Moreover, our carpets will also smell fresh and natural after we are done cleaning them with our unique and safe option of green carpet cleaning.
The Unique Green Cleaning Method
A+ Cleaning Services uses organic solvents that break apart the dust and oils from carpets. These organic solvents are more effective in removing stains and they do not contain harmful aerosols that can damage your nasal tract and lungs. This method gets your carpet to dry faster and there is no chance of soap and detergent particles getting left behind. The carpets, hence, remain soft and plush after being treated by the green cleaning method.
Feel the Difference
The methodology of cleaning carpets using green methods is quite new in Cape Cod and A+ Cleaning Services is spearheading to make this safe method a popular choice for carpet cleaning. We understand how harsh chemicals used in traditional carpet cleaning can be harmful to your skin, eyes and nasal tract.
Conventional methods of carpet cleaning can leave a musty smell and harden the fabric of the carpet. The green carpet cleaning method, on the other hand, can further soften your carpet. It enriches the fabric's natural colours and can even restore it in case the carpet is faded.
Safety is a Priority
The floor is the most important part of the house and also the most unhygienic, due to frequent traffic and contact with dust and grime from outside. Hence, it is not safe for children and pets that crawl on all fours and lick and grab everything with their mouth.
A disinfectant not only kills bacteria and viruses, but can also cause damage in the digestive system of animals and humans. Therefore, it is a lot safer to use organic disinfectants, detergents and deodorants for your carpet.
Making Carpets Spotless
Our trained and certified professionals will scrub and clean your carpets in every corner of your homes and offices to give them a spotless look. We do not leave any area unattended. We will suck out all the dirt from your carpets and bring them back to a sanitary condition. The Green Carpet Cleaning method is not only eco-friendly, but more effective too.
Awareness has helped many live a better lifestyle and they do not mind paying an extra buck for toxin-free products. It is better to be safe than worry about marginal charges. We want Cape Cod's populace to be safe and not suffer due to harmful chemicals and hence, we provide green carpet cleaning services for you.