Envy those floors you can literally see your reflection on? Sick of dull dusty floors that have nicks and grit embedded in them? Have your once smooth floors lost their glow? Cape Cod's A+ Cleaning Services provides you with stripping and waxing of floors to give them that lustrous sheen.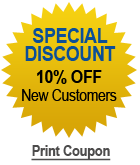 We strip floors off dust that has settled over the years and their previous wax. Then we polish them by waxing them. Our workers will provide you services with supreme finesse and quality.
Why Do You Need to Get Your Floors Stripped and Waxed?
Every stone needs to be polished and shaped well to become a beauty. Your floors are also made of stone and their blissful colour, texture and smoothness can only be achieved and maintained by waxing and stripping them.
Strolling, stamping and walking can erode floors and the wear and tear caused by this usage can make even the best tiles look hideous.  Floor stripping and waxing restores floors to their shiny old self, also increasing their endurance by strengthening them, such that they remain untouched by Cape Cod's dust, gravel and sand.
Types of Floors We Strip and Wax
A+ Cleaning Services are experts at servicing all types of floors, especially:
Marble
Granite
Vinyl tiles
Ceramics
Quarry
Terrazzo
We clean tiles in residential, commercial and industrial spaces. Cape Cod is surrounded by a coast and the salts in the air and sand that come in contact with your tiles, fast-track their wear and tear. A+ Cleaning Services helps you to put a stop to this abrasion with its unique stripping and waxing methods and quality products and equipment.
We follow very systematic procedures. We apply quality stripping agents to your tiles that do not damage the stone and its natural color in any way. These stripping agents dissolve away all dust and wax. It is after leaving the stripping agent for a while, that we bundle your floors with wax and then use our equipment to polish it out. The floor once cleaned looks resplendent!
We Serve Everyone!
Our equipment is suitable for narrow and vast open spaces and for all sizes of tiles and floors. Tiles of different industries and homes suffer different kinds of deterioration. We have the capability to restore all types of damage and restoring your tiles' luminescence.
We understand that nursing homes, supermarkets, shopping centers, etc. have heavy traffic and hence, their tiles are most grazed. And the brand of these commercial spaces is highly accentuated by their tiles. Our floor stripping and waxing services help our customers maintain their image.
Our Unique Service
The waxed and stripped floors are glossy, but not slippery; stable, durable and nick resistant, but not discolored. The transformation from yellow scratched tiles to shiny ones is so evident that you feel you've just installed new tiles. We are available 24x7 and hence, can provide services when you are busy working or even when your shops are shut for customers.