Pets are adorable little creatures that become our best friends and stay faithful throughout their life. However, their smells can be daunting and when they roll over your soft cushiony carpets these smells can rub onto your carpets and upholstery and stay there. Their smell, once affixed, is hard to overlook and ignore.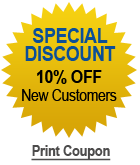 A+ Cleaning Services offers you carpet cleaning services for pet odor removal. Our carpet cleaning methods not only drown the natural smells of pets in perfume, but also disinfect your carpet in case your pet fetched any infections or bacteria from his excursions and strolls in the park.
Everyone Loves a Carpet
Soft fluffy carpets and rugs are a favorite among pets to roll about and sleep in. No amount of coaxing can get your pet out of these carpets. Neither are pet owners able to force their pets away from their carpets because of the fun they seem to be having with your carpet. However, this pretty scenario can turn ugly as pets bring with them ticks and unhygienic dirt and grime.
Would you let your carpet fester in such a condition?
Disinfect Your Carpets
Bad and unbearable smells are primarily created by the decomposition process of bacteria. Hence, a room freshener spray is not an effective solution as it can only mask hideous smells temporarily, but it cannot eradicate the bacteria that transfer from your pet's fur to the carpet. A+ Cleaning Services, on the other hand, disinfect carpets, creating a clean and safe environment for your children as well as your pets.
Why Cape Cod's Pet Owners Need Our Services?
A pet's odor is inherent to it and it is unhealthy to bathe a pet every day. Even a pet that is bathed weekly can bring with it smells from outside as well as the reek of whatever it eats, drinks and touches. Also, traces of ammonia present in a pet's urine can cause skin and respiratory track inflammation, burning and eye injuries.
A+ Cleaning Services are well known in Cape Cod for ridding the malodor from carpets and disinfecting them. We suggest you get us to clean your carpets before the smelly toxins accumulate and pose any health threat to you and your family.
The Solution
Cape Cod based A+ Cleaning Services have trained and certified professionals holding cleaning certifications to clean carpets, disinfect and deodorize them. Do not worry about replacing your carpets with new ones, or worse getting rid of them altogether. Instead, for the sake of your pet, employ us to do the cleaning job.
Soft carpets provide a mushy landing for you and your pets when you play together. They not only help avoid injuries but also provide a lot of fun in rolling and tumbling. Do not stop yourself from buying a rug or carpeting your house for the fear of the burden to keep it clean and odor free!
We are here to help you. Call Cape Cod's A+ Cleaning Services. We provide all round cleaning services throughout the year at every time of the day.