Keeping your home clean, neat and beautiful seems like an easy task. Most people use a damp cloth sprinkled with a bit of disinfectant to get rid of dust that settles on household furniture and upholstery. However, is this task all that it takes to keep your home environment clean and healthy?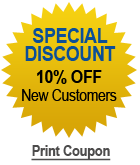 Do your home cleaning practices cater to the unseen and hidden dust, dirt and germs that linger for days, months and years without being noticed by you? Time constraints may leave us with very little to do. Therefore, our house cleaning tasks are restricted only to what we can see. However, it is strongly recommended that you undertake upholstery and carpet cleaning on a regular basis to maintain the beauty of your home and ensure a healthy indoor environment for you and your family.
A+ Cleaning Services on Cape Cod offers residential, commercial and industrial cleaning services. Our residential cleaning services include upholstery and carpet cleaning. Our cleaning services cater to your every need and we provide you with certified professionals to conduct a thorough cleaning job in your home.
Upholstery Cleaning With A+ Cleaning Services
What do you do when your favorite chair or sofa appears worn out? Do you get rid of it and buy a new one instead? With A+ Cleaning Services at your service, you can keep that purchase on hold and keep your favorite chair or sofa too.
"How?" you ask?
A+ Cleaning Services undertakes upholstery cleaning by practicing industry certified cleaning methods and those recommended by your upholstery manufacturers. With our services, you can keep your upholstery looking clean, smelling fresh and free from bacteria and other germs. Cape Cod Upholstery Cleaners also provides you with upholstery restoration services to keep your furniture looking as good as new.
When it comes to cleaning upholstery, each fabric requires to be treated with different cleaning methods which are safe enough to maintain its shelf life. A+ Cleaning Services understands that cleaning and restoring upholstery is not a task to be experimented with. Therefore, we employ only certified technicians to perform the upholstery cleaning and restoration services in your home.
For the best and long lasting results, trust A+ Cleaning Services.
The Importance of Upholstery Cleaning on Cape Cod
Cleaning household upholstery on a regular basis serves three important reasons:
Aesthetic Appearance – Needless to say, beautiful upholstery enhances the beauty of a home
Increased Shelf Life – Why spend unnecessarily replacing your furniture too often? Simply clean your upholstery on a regular basis and extend its use.
Family Health – A healthy family is a happy family. Keep your home free from diseases by eliminating disease causing bacteria through upholstery cleaning.
You now have a simple solution to keep your upholstery clean. You don't have to lift a finger; you don't have to sweat it out doing all the cleaning yourself. Just give A+ Cleaning Services a call and we will leave your upholstery looking beautiful, feeling fresh, smelling pleasant and 100% germ-free.