Does your Cape Cod car need the magic of a cleaning specialist? Are your boat interiors deteriorating with dirt and smelly odor? Is it getting difficult for you to regularly clean up your recreational vehicle (RV)?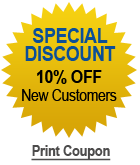 A+ Cleaning Services is your only solution for all three problems. We offer standard and professional auto, boat and RV cleaning services on Cape Cod. So, give your car, boat, and RV the best treatment before you plan your next voyage.
Auto Cleaning and Detailing
Remember the time when you had just bought your new car?
Today, we to spend more time driving than at home due to the necessity of traveling. An enclosed space where you get in right after you step out of your house should be as clean as your home interiors. A dirty car not only gives you a bad driving experience, but it also spreads allergies and infections due to the thriving mold and bacteria.
A+ Cleaning Services can clean your car interiors with modern equipment to give them a gleaming look and a fresh and clean feeling.
Boat Interior Cleaning
Cleaning and maintenance of boat interiors is essential for a smooth and pleasant sailing experience. The boat interiors are prone to damage and severe wear and tear because of the exposure to harsh environmental conditions. Keeping the boat interiors clean becomes even more challenging due to spills, mud, dirt, and sand trapped between the seat crevices and the floor coverings such as carpets and rugs.
Especially, when you enjoy fishing from your boat, you invite several undesirable elements to your boat interiors along with the unwanted smell and germs. These germs penetrate the carpets and the odor attracts several insects. Without meticulous cleaning and polishing, your boat interiors will give a dirty appearance over time.
A pre-inspection allows us to decide the depth of detailed servicing required for your boat interiors. We vacuum the floors, deep-clean and scrub every corner of your boat interiors to remove hidden dirt. We don't just cover the undesirable odors in your interiors. We completely destroy them with our Ozone generators.
RV Cleaning
Your recreational vehicle (RV) needs extreme care and maintenance so that your next trip will be a refreshing experience. RVs are huge and maintaining them personally is a difficult task. But A+ Cleaning Services is here to restore the sparkling new look of your vehicle in Cape Cod.
Our RV cleaning service begins with exterior cleaning. All oxidized areas and stained surfaces will be polished and treated for protection against UV radiation. The areas that need extra detailing are the driver and passenger seats. Deep cleaning, vacuuming and steaming will ensure the removal of all dirt particles in these areas. You windows will be thoroughly scrubbed and the floors will shine brightly.  
Right from simple dusting to the specialized treatments, we at A+ Cleaning Services make use of every modern cleaning equipment and harmless yet effective cleansing agents along with traditional cleaning techniques to ensure that your auto, boat and RV interiors are spotless and germ free.