The comfortable mattresses we lay on our beds are inviting and create a mood of coziness and warmth. At the end of a tiring day, all we want to do is hop into bed after a warm shower, read a book or shut your eyes and enter a world of blissful sleep.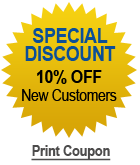 Considering that humans spend 1/3rd of their lives in bed, it is only natural that our beds and our mattresses should provide utmost comfort to us. Additionally, our mattresses need to be clean enough to ensure a healthy indoor environment.
Your mattress may be constantly protected with a layer of bed sheets over it and you may change your sheets every 2nd day; however, that does not prevent viruses, bacteria, dust mites and other harmful organisms and residues in our bed.
What do you do to clean your mattress?
Do you flip it over occasionally? Do you simply buy a new one when it begins to eliminate a stench or the stains get too loud? Or do you just leave it as it is?
Mattresses may not be an expensive investment for your home, but that doesn't mean you buy a new one at the drop of a hat. Neither will flipping it over occasionally work; you only have two sides to a mattress. Leaving your mattress as it is will only add to health problems in your home.
Call the mattress cleaning experts on Cape Cod! A+ Cleaning Services will come to your rescue!
Did you know that -
Bacteria and viruses find comfort in the warmth of your mattress leading them to multiply in larger numbers?
Your beloved children and pets are likely to fall sick more often from the germs in unclean mattresses?
The quality of air in your home reduces with the dust from an unclean mattress?
You become prone to common illnesses due to an unclean mattress?
A mattress free of stains and germs leads to sounder sleep?
Cleaning Your Mattress with A+ Cleaning Services
Our mattress cleaning services at A+ Cleaning Services on Cape Cod are performed by professional technicians. They are well trained to provide cleaning serves for every mattress type.
Our technicians firstly detect the problem areas in your mattress, for example – stains, stench or dents. They then identify its type and the cleaning process best suited for it. With the necessary equipment and products, they conduct a thorough mattress cleaning procedure to remove stains, deodorize and disinfect your mattress. What you will be left with is a clean, fresh, germ-free and pleasant smelling mattress.
We guarantee that you will be eager to hop into bed as soon as your mattress is restored to an "as good as new" condition with A+ Cleaning Services.
Quality Mattress Cleaning Services in Cape Cod
For a quality mattress cleaning job in
Cape Cod
,
A+ Cleaning Services
are the best. By hiring us to clean your mattress on a regular basis, you can improve your indoor home environment and guarantee the health of your family, pets and yourself.