A water calamity can devastate your residential, industrial and commercial spaces by drowning the things you invested in and were attached to. Do not lose hope because A+ Cleaning Services can help you clear the water from your homes and offices and can also help you restore most of the damage. We have immense experience in handling such situations deftly by providing trained and certified professionals to recover your drenched items.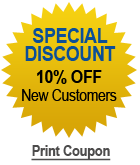 We restore and clean-up all kinds of water damage in all kinds of places. We get rid of the stink, suck up water, restore your rooms, clean windows as well as repair the damage done to floors.
Water Damage
Water damage can be caused by flooding, broken pipes and overflowing gutters. Many a times, such cataclysms go unnoticed until the water has risen to misfortunate levels. However, all damage is not irreversible. The recovery depends on the level of water and the extent of water damage. A+ Cleaning Services is your best hope in saving all that can be saved. If the water has only risen to the low lying parts or small parts of an office or households, we can restore them back to their original self.
Our Expertise
We are well versed with handling flooding situations at Cape Cod. We first suck out all the water and then proceed to dry it. Post water removal, we can provide the following among your many other requirements:
Restore, repair, install, clean, strip and wax tiles
Repair and clean carpets
Clean up debris and waste
Repair and clean upholstery
Remove and avoid mildew and mould formations in soggy places
Disinfect and deodorise rooms
Our equipment and certified trained personnel are unprecedented in Cape Cod's cleaning industry. We have hand-picked our staff and our machines are advanced and run in a very good condition.
Your Best Bet
The fact that we offer a range of cleaning services enables us to deal with contingency situations and recover all round damages. We have handled water damage at all scales. Regardless of the industry and size of homes and offices, we have delivered the best on Cape Cod.
You do not have to worry about contacting different people to extract the water out, repair your floor and furniture, remove all the debris and damaged items as well as deal with disinfecting the affected places that have high chances to become breeding grounds for water borne diseases. A+ Cleaning Services is the one stop shop for water damage control and recovery.
24x7 Services
Like any calamity water damage can occur without a warning. You can save more the sooner you act. Any delay can only convert all your belongings into garbage that needs to be disposed off. To ease your worries, we are available at all times throughout the year and can be reached at anytime.
Call us on 08-771-1788 or 877-841-1788 and better save this number so that you waste no time!